You can be any character you want to be!
The Custom LED mask contains over 2,000 individual LEDs with a fast response rate to support realistic animated effects. Also, the LEDs are bright enough to be displayed during the daytime.

ㅤ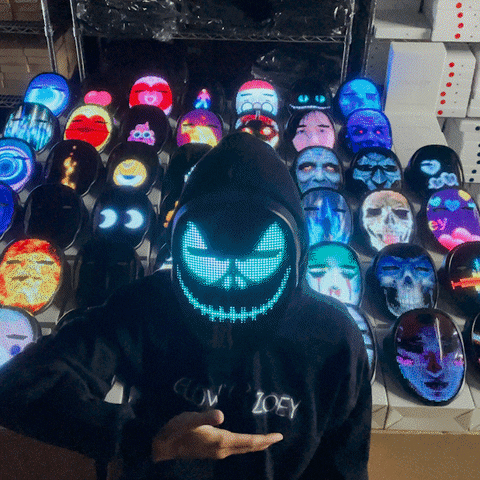 SMART TECHNOLOGY - The LED Masks can be customized through the app (linked bellow). The app is available on Apple App Store & Google Play Store. There are 45 kinds of dynamic pattern and 70 pictures that come pre-loaded with the app. You can also, through the app, upload your own images and write your own scrolling text messages for endless possibilities. 
HAND GESTURES - The electronic mask has a sensor to support hand gestures, you can change between different patterns/pictures by waving your hand across the mask. You could become a cool face-changing magician.
When playing music in the app, the mask will sync with the beat of the music. This feature is Unique, Fun & Entertaining! You can really make a show special by syncing the music with light effects!
COMFORTABLE TO WEAR - The LED mask is not very thick and come with a silicon pad for the eyes, which makes it very comfortable. The mask doesn't restrict breathing, and seeing. Also, this mask works with glasses! Adjust the size of the mask strap
RECOMMENDED USES - The LED mask is suitable for Halloween, cosplay parties, music festivals, EDM festivals, Raves, masquerade costumes, carnivals, bars, nightclubs, etc. The LED Mask makes you the center of any party. You can also use the mask to prank some friends.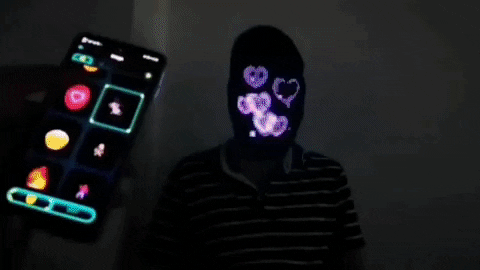 Download The APP Via the QR Code Bellow