Get your own Dancing Cactus

It can dance. This is the most interesting part. It swings its body and it's very funny. It dances at the same time. It also glows. In addition, it will record and repeat what you say then process it to make the your recording sound like it's the dancing cactus saying it. This will brighten the mood in your room and bring joy to your family. There are 60 music tracks pre-loaded.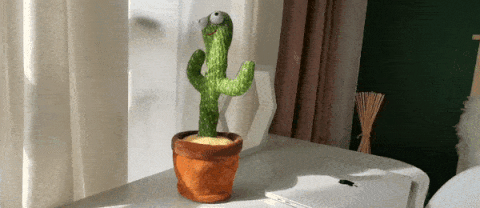 Quality Material - Soft material, comfortable, safe, non-toxic. The toy can dance, sing, move and rotate.The toy can dance, sing, move and turn around. Suitable for bedroom, living room, home, office, nursery bed and every place you like.
Great Gift - Cactus plush toy is give best holiday,birthday gift for kids. Cheerful music and dancing are very suitable for creating a pleasant atmosphere and suitable for parties.
Features - This curious, expressive cactus likes to play with you during the day. In night mode, she makes a deep sleep sound and plays soft music. She is the best friend day and night.